Heidelberg Quickmaster DI-4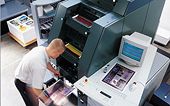 The Heidelberg QuickMaster Direct Imaging (QMDI) press is a revolutionary 4-color (CMYK) true offset printing system that allows for layouts to be sent over our network directly from the computer to the press. The plates are then imaged directly on the press saving time and resourses.
The result: top quality offset printing at a substantial savings in both cost and time.